By Kemal Aziz - Quantum Physics
A theme prevalent throughout condensed matter physics is that microscopic fluctuations manifest as macroscopic behaviors. GdCo, for instance, exhibits the "magnetocaloric effect", whereby the application of a magnetic field induces temperature changes in certain alloys, currently subject to ongoing research by General Electric. The Heisenberg Spin Hamiltonian is an operator used to calculate the total energy of a magnetic system, given matrices which represent "spin" magnetic moments of constituent, interacting atoms within a lattice. Geometric structures called space groups yield the periodic configuration of such a lattice in space, dependent on the material modelled. ... I used existing space group parameters to understand how these temperature changes emerged from atomic-scale interactions.
Read more...
By Justin Cohen - Psychology
World Trade Center (WTC) disaster responders were exposed to psychological trauma due to the September 11, 2001 terrorist attacks. As a result, many continue to suffer from symptoms of post-traumatic stress disorder (PTSD) and psychological distress which can worsen after exposure to subsequent traumatic events such as Hurricane Sandy. Preexisting data were obtained from a study group of anonymous WTC responders both before and after Hurricane Sandy. Statistical analyses concluded that higher levels of hurricane exposure were associated with increased symptoms of PTSD and distress following Sandy. It was also determined that 9/11 responders with high hurricane exposure levels who possessed increased adaptive coping skills prior to Sandy had lower distress symptoms post-Sandy. The results highlight the importance of adaptive coping skills in promoting resilience to psychological distress.
Read more...
By Emily Cruz - Biology
The world is in a state of environmental disarray and one way this can be fixed is through looking at past thriving ecosystems and using this information in order to inform future policies. I remember a time before hurricane Sandy, and everything, at least within my community had appeared environmentally sound. I remember the night when Sandy hit, wind incessantly pounded on my window, beckoning to come in, and the sound of torrential down-pour and emergency vehicles filled the night. The next morning, I looked out of my window, and all I could see was a world covered in branches and of fragments of homes. Everyone in our community had always believed ourselves immune to the wrath of the environment. However, being hit with one of the effects of global climate change had made up realize that we are not immune to climactic catastrophes. The New York Tri- State area was hit hard, with millions of dollars in damage. However, one thing saved us from further catastrophe: the marshes. The marshes had protected us from a further 625 million dollars in damage. It was when I discovered this, that I realized that I wanted to study the marshes to maximize their benefit. A few years later, I had begun doing some research at Alley Pond Environmental Center, where they had recently completed a remediation project ...
Read more...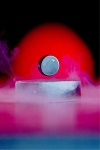 By Vincent Dai - Physics
The future of science and technology lies in the quantum properties of matter, with fields such as condensed matter physics having already produced innovation like nanotechnology and quantum computation. Superconductivity, the property of some materials to show no electrical resistance at extremely low temperatures, and magnetic exchange coupling, the interaction of ferromagnetic materials over space, have in past research shown tendencies to interact with one another in interesting ways. Should that relationship be better understood, it would enable us to utilize them to improve practical applications of technologies such as maglev trains. Our project investigated these dual phenomena, asking how the two are related, so that we might gain a better understanding to how and why they interact, possibly yielding insight to future applications of their relationship.
Read more...

By Nikhil De - Physics
A recently emerging and novel method of the observation of galaxies is through Integral Field Unit (IFU) Spectroscopy. Spectroscopy — in contrast to photometry which measures the total brightness or flux of light — allows us to see the amount of light observed at each discrete wavelength within the observed range. Accordingly, since many physical processes are associated with the absorption or emission of light at specific wavelengths, we are able to measure these processes in distant objects through spectroscopy ... In this work, I seek to apply some of the unique forms of analysis permitted by IFU spectroscopy to the phenomena of dwarf interactions. One such innovation which IFU spectroscopy allows for is the examination of 2-dimensional resolved velocity dispersions, maps which display the movements of discrete stellars and gaseous elements within the galaxy.
Read more...

By Ishan Gurnani - Medicine
One weekend, I was out for a game of soccer with my friends. The temperature was a blazing 95?, and I began to feel light headed. I thought to myself: "Why am I experiencing these symptoms?" During halftime, I checked Google on my phone, and I learned that as I played, I excreted fundamental electrolytes, such as sodium, and water. However, I was only ingesting water, which resulted in a decrease in my body's sodium levels, also known as hyponatremia. This created an osmotic imbalance across my blood brain barrier; therefore, a water flux caused my headache. After further research, I learned that my dizziness was just the tip of the iceberg—sodium deficiencies result in a host of cardiac and neurological complications. I also saw a headline from a soccer player at Ajax, Abdelhak Nouri, who had the same deficiencies as me, but his were far more serious—a cardiac arrhythmia led to permanent brain damage. This was when I realized that it was essential to develop a method for continuously monitoring sodium in athletes. I read countless journals to gain an understanding of current sensors, and I realized that their applications could not be realized due to drawbacks such as inaccuracy under low sweat rates and sweat volumes. From my knowledge of piezoelectric materials, I recalled that the energy outputs tended to have very small currents—currents small enough to not be felt by a person. Therefore, I came up with the concept of applying the small currents generated by the conductivity of sodium to deform a piezoelectric beam and evaluate if this sensor could address the limitations of past sensors ...
Read more...

By Hanxuan Kuang - Astronomy and Physics
Previous studies have shown that the cosmic expansion is accelerating despite the gravitational attraction between matter, caused by a mysterious source of energy denoted as dark energy. A cosmographic test of whether it exists in the form of a cosmological constant or more general dark energy was performed with Markov chain Monte Carlo algorithms using the SCP Union2.1 supernova compilation. By fitting polynomials to Hubble series expansions, the Hubble Constant (H0), the deceleration parameter (q0), and the jerk parameter (j0) can be estimated ... This study focuses on the effects of MCMC algorithms and model-building uncertainty–the dependence of results based on fitting functions used. Eight tests of different orders and distance scales were performed. Through a new program devised in Java, resulting uncertainties of all parameters are significantly smaller than those from traditional statistical techniques. Combined with cosmographic method, MCMC yields much more Gaussian distributions of cosmological parameters.
Read more...

By Amy Shteyman - Medicine
That squirrel over there has a funny looking mouth because she is stuffing too many acorns into her cheeks. It's not a knee-slapper but it makes you want to smile. And when your neighbor takes the garbage out and smiles at you, I bet you smile back. A smile is critical in communication. A lack of smiling can be symptomatic of autism, depression, and schizophrenia. My experiment investigated the difference between brain activity while a person smiles in an interaction with another person and the brain activity while a person smiles from a non-human stimulus. Brain activity of pairs of subjects was recorded with functional near-infrared spectroscopy(fNIRS) while a facial classification device measured the strengths of their smiles. Participants alternated between viewing 'cute' animal videos and the face of their partner sitting across from them. Results showed even though both subjects smiled, smiling from watching a partner smile exhibited brain activity in social brain areas like Wernicke's and Broca's areas, and the temporal gyrus. Smiling from watching videos displayed brain activity in brain areas responsible for movement. These findings indicate that social smiles activate a separate system of brain activity that of smiles engendered by non-human stimuli ... My claim from using functional near-infrared spectroscopy (fNIRS) brain scanning is that those two smiles are neurologically different. The smile you give your neighbor after she gives one to you, the smile contagion known as the social smile, activates the Broca and Wernicke areas of the brain, as well as temporal gyrus all of which are all associated with communication and social cues. Conversely smiling because of a funny looking squirrel activates areas of the brain such as the motor and parietal cortex, which are responsible for movements and sensations. But why might it be important that there is a distinction between a social contagion smile and just a smile from a cute scene?
Read more...

By Anoop Singh - Mathematics and Meteorology
Climate change impacts all people living on the Earth. The El Niño Southern Oscillation (ENSO) is a system which influences the climate around the globe. For this reason, it would be helpful to create a procedure for predicting ENSO each year, allowing the population to understand and prepare for a potential climate in their area, months in advance. This study developed a procedure to create predictions of ENSO every year. This procedure is simple, using basic statistics and computer science to create forecasts more accurate than those currently existing. Additionally, the study helped specify the relationship between the pressure systems surrounding the Pacific and ENSO, assisting in creating stronger predictions and allowing us to better understand the phenomenon.
Read more...

By Henry Sloan - Sociology and Computer Science
The goal of my research is to find out the effects of showing different people various privacy suggestions in a Facebook-like system. In theory, this understanding could provide tools that allow users who want different amounts of privacy to achieve it conveniently. To adapt to users, however, one needs a model of the users. We picked "Privacy Profiles", a previously established user model. Privacy Profiles basically categorize users of a social network based on the privacy features they use and are aware of. For example, people who often block people may be categorized as "Privacy Maximizers". Based on this model, we designed three ways of creating adaptations, and three ways of showing them. When generating suggestions, we can use "optimization", which helps the user with things they already do, "solidification", which helps them with features inside of their profile (ones which they "should" be using), or "self-actualization", which suggests things they might not do themselves. These are called "Adaptation Methods". These adaptations can then be shown in various ways, called "Introduction Methods": "automation" implements changes without asking the user first (with an "undo" button), "highlighting" makes features more visible or prominent, and "suggestion" shows a Privacy Dinosaur (Based on of a similar dinosaur on Facebook) to give personalized suggestions.
Read more...

By Daniel Vieira - Psychology
Last year, my father and I were displaced by a hockey puck – the artificially intelligent Amazon Echo Dot. As my family was getting ready to go to my uncle's house, my sister asked my father how cold it was outside. My father in response told her that it wasn't too chilly out and that she wouldn't need to wear her coat. Immediately afterwards, however, my sister asked the Amazon Echo Dot – also known by her wake word "Alexa" – what the temperature was. "Alexa" curtly responded with the current temperature, the expected high and low temperatures of the day, and how cloudy it was. My father asked my sister why she didn't take him at his word, and she simply responded, "I just wanted to make sure" ... The present study examined whether social comparison processes and the pratfall effect exist in the human-robot interaction (HRI) domain. Contrastive upward-comparison theory states when one evaluates oneself in comparison to a superior target perceived as having an unobtainable status, the comparer feels relatively disadvantaged, and may undergo negative psychological consequences (e.g. a worsened self-concept). Because artificial intelligence is becoming increasingly human-like and flawless in its cognitive abilities, the present study hypothesized subjects outperformed by a perfectly performing robot will make contrastive upward-comparisons to it and develop negative feelings of inferiority. The present study also hypothesized, in light of the pratfall effect, that an erroneous robot would be perceived as more humanlike and likeable than an error-free robot.
Read more...

By James Wang - Medicine
Preliminary diagnosis of lung cancer has led to countless cases of overtreatment due to false positive classifications made by physicians and radiologists. Most commonly, the misclassification of a benign pulmonary nodule (PN) as malignant from chest X-ray images initiates this process for patients. In the advent of promising machine learning and computer vision models, we investigate the optimization of benign and malignant PN classification using deep convolutional neural networks through transfer learning by fine tuning its convolutional layers. Specifically, we look at how fine-tuning the VGG19 convolutional neural network model differently affects its classification accuracy. With our optimal model, we test its efficacy in localizing and classifying PNs on chest radiographs using a selection search-based scanning method. We found that fine-tuning the last convolutional block yields the highest predictive performance. Using a reserved image test set, our model is able to yield a classification accuracy of 77% compared to published models yielding 68%. This methodology can be easily generalized and applied to other medical imaging tasks.
Read more...

By John Wilkins - Physics
Then finally, after several years of messing around in the theoretical space inside my head, I came across a specific topic where further research could be of legitimate use: space based solar power (SBSP). SBSP is exactly what it sounds like: solar power – but in spaaace! Large solar panels are launched into orbit, specifically geosynchronous Earth orbit, and beam collected energy, via microwaves, back down to Earth for use. It's clean and efficient; considering the existential threat of climate change, it's exactly the kind of energy source we need. I was just in my room, on my computer, moseying around the internet, when I came across the wiki page for SBSP; the first thought that went through my head was, "well, no duh! This is brilliant! Why hasn't this been implemented yet?!" The second thought was, "why is my internet so slow?!" And the third thought was, "whelp, I need a book now."
Read more...





University of Chicago
Professor David Mazziotti
Editor